Stephen Brown, Ph.D.

Teacher of the Alexander Technique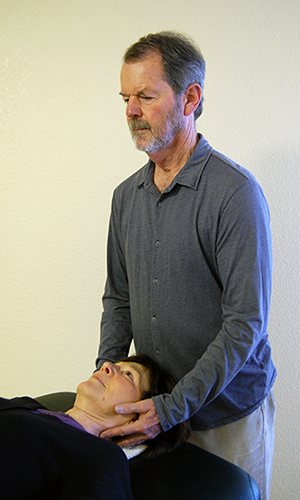 In the Alexander Technique you learn how to recognize and change habits of misuse allowing greater efficiency and ease. The objective is a poised head on top of a lengthening spine. This dynamic alignment is essential for efficiency of movement, function, and sensory awareness.
It is common for people who are otherwise in good health to complain of back or neck pain, fatigue, poor posture, tension or other types of poor functioning. Although a condition may be localized, specific treatment almost never results in more than temporary relief. Usually the trouble is caused by a system of bad habits that lead to improper use in ordinary activities - walking, speaking, standing, sitting, and bending. The only way to correct such habits is to replace them with a system of good habits.
Background
The Alexander Technique was developed by Frederick Matthias Alexander (1869–1955). Periodic loss of voice led Alexander to investigate his own actions through self-observation and experimentation. By about 1900, he had developed his discoveries into the educational process that carries his name.
One of his discoveries was that habitual interference with the natural relationship of the head, neck and torso produces excess tension and compression throughout the body. These habits disrupt our ingenious design. Restoring natural, dynamic organization counters gravity and improves all processes. The overall result is improved mental and physical well-being.
"...the Technique does keep the body healthy, mentally and physically efficient and in addition provides a spiritual calm and confidence that makes living a pleasure and not an existence."
– Patrick Macdonald from The Alexander Technique As I See It, 2002
"Together with improved physical and mental health I have found that the Alexander Technique has brought about a general heightening of consciousness on all levels."
– Aldous Huxley
Some prominent performing artists who have studied the Alexander Technique:
Julie Andrews, William Hurt, Jeremy Irons, James Earl Jones, Kevin Kline, Paul Newman, Lynn Redgrave, Sting, Mary Steenburgen, Hilary Swank, Robin Williams, and Joanne Woodward.
Some universities and conservatories teaching the Alexander Technique:
The Juilliard School, New England Conservatory of Music, the Yale School of Drama, UCLA School of Theater, Film and Television, RADA: The Royal Academy of Dramatic Art, and the Royal College of Music London.
Bio
Stephen has been teaching the technique since 2002 following a career in agricultural and environmental science. His students include musicians, dancers, actors, artists, dressage riders, health professionals, the physically challenged, people with chronic pain, and athletes.
His work with athletes is enriched by his professional experience playing and teaching golf, and since 2006 he has been helping ultra runners compete in the Western States 100 Mile Endurance Run. He is also a teacher of the Shaw Method, applying Alexander principles to swimming.
His educational background is in zoology; he earned a B.S. with distinction in zoology and an M.A. in biology from San Diego State University and a Ph.D. in nematology from the University of Florida. Stephen offers individual and group lessons and consultation to organizations.
"Whether swinging, walking, in setup posture or just body awareness, I have benefited from Stephen's teaching of the Alexander Technique. The results are improved consistency in motion, less interference, better elasticity, and a holistic improvement overall. All golfers would benefit from this training."
– Matt Flenniken, PGA Professional, Master Instructor and Club Fitter, San Jose, California