Show! November 11 - December 8, 2005,
at Naked Thread, 231 E Street, Davis, California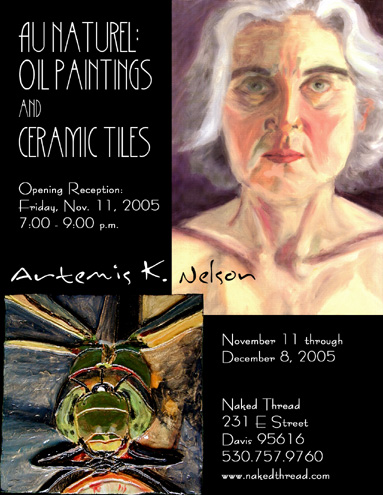 In my painting, whether in oils on canvas or underglazes on clay tiles, my aim is presence. I want to portray myself, or another creature, engaged with the viewer, in direct eye contact—or else in close-up examination. Alive and intent. I am looking for contact and communication.
Three of my oil paintings are exhibited. Close-up Dragonfly Face and Leaf Eye were completed this fall. Self-portrait with Bare Shoulders is one of a series of quick self-portrait studies I painted in a class with Gina Werfel at UC Davis in the fall of 2004. Also during that quarter, I took Entomology 1 (Art, Science and the World of Insects), an innovative science class using art sections to further integrate learning, taught by Diane Ullman. My ceramics section was co-taught by Donna Billick and Diane herself.
I had worked in ceramics years before but had never made tiles. I love the combination of working with clay, the malleable earth, to make forms, and applying pigments that are very much like paints but not; rather, they are mysterious, a magic trick that is not over until the kiln is unloaded! This method of low relief and underglaze painting, with clear overglaze, is proving to be a new love of mine—as are the insects!
I have become fascinated with the multitude of little beings that make up 75% of animal species on earth: their ability to camouflage themselves like a leaf or a flower or a stick; or to make silk, or honey and wax; and for some, to actively nurture their young. How are they like us, and how are we like them? Their faces: so strange, and yet familiar.
I am currently working on a fellowship with Diane Ullman, further exploring the subject of insects and techniques for handmade tiles. Diane has been of invaluable assistance in pressing out tiles with me, and in firing my completed tiles. I've used three colors of clay: white, red, and black; the tiles are mid-fired to cone 5.
For this show, I've chosen to concentrate on one insect, the dragonfly, and the female human form, both au naturel: as found in nature, and nude. As usual, I'm the model who's always there. Doing any kind of art, putting it out there, one already feels naked—so why not? And besides, people don't see enough middle-aged women nudes. And bodies are beautiful. And, for that matter, insect bodies are beautiful. Why not display this beauty openly and extravagantly, like the butterfly?