Welcome to the DMNC's website. Over time, we hope this site provides increasingly valuable information for our neighborhood. If you would like to help with the site or provide material, please contact the volunteer Webmaster - Debbie Martin at wildtrax@dcn.org. We also want to thank the Davis Community Network for providing us this site for free!

Presently, we need some friends of the path to the community garden to help in planting, mulching/weeding, and occasionally watering this stretch. Day jobs or long-term options. Good vibe benefits. Contact any board member if you are interested.
7 0'clock Virtual Singalongs

February 20th - I went grocery shopping early this morning. When I turned onto Pole Line back toward our 'hood, our resident flock of turkeys was lining both sides of the road. It was the big flock, with 30+ birds, mostly hens and last year's chicks. However, there were two large toms with them, tails spread in full display. The hens weren't interested...yet. Leaving the toms in the position of the spokesbird in tonight's song.

Turkey Love Song

Marylou
Song Coordinator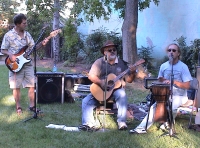 ... more photos
April 2020 Crime Alert: Catalytic Converter Thefts - Read the alert.

June 27th Green Streets Meeting Notes - If you missed the meeting and want to get more involved, please contact one of the people named in the notes.

June 7th Green Streets Meeting was held with Kevin Perry to determine next steps. View June 7th notes.

May 17th special guest speaker Kevin Perry spoke to our neighborhood about potential ways to make our streets more green, sustainable, and pedestrian friendly. If you missed it read the meeting notes and view Kevin Perry's slide show.

M and Duke Street Mural Photos

Mark Lakeman of The City Repair Project spoke to our neighborhood on March 15, 2016. If you missed it, view his Ted Talk to spark ideas for our neighborhood.

Missed Neighbors' Night Out and Dare to Imagine? View the video here. We welcome news and new ideas.



To post an announcement, contact Debbie.