NAMI Connection
A Recovery Support Group for people with serious mental Illness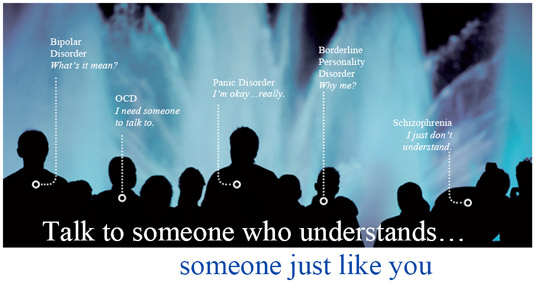 DAVIS
Thursdays, Noon – 1:30 PM
Cesar Chavez Plaza - Community Room
1220 Olive Drive, Davis, CA

WOODLAND
Fridays, 10:00 to 11:30 AM
Alcohol, Drug, and Mental Health Department
Bauer Bldg., Wellness Center Group Room
137 N. Cottonwood St., Woodland, CA
NAMI Connection is a free, 90-minute support group run by persons who live with mental illness for other persons who live with mental illness. The group is led by NAMI-trained peer facilitators who understand the daily challenges of living with a mental illness and can offer encouragement and support.
The program USES principles of support designed to empower its members. It focuses on allowing all participants to share their experiences and learn from each other in a safe and confidential environment.
Too often, mental illness is an isolating experience, accompanied by profound anxiety. For those diagnosed with a mental illness, talking with someone and sharing coping strategies and insights, as well as problems and concerns, can be an important link in the path to recovery.
Open to all adults with mental illness, regardless of diagnosis.
Meets weekly for 90 minutes
Free of charge
Follows a flexible structure without an educational format
Does not recommend or endorse any medications or other medical therapies
All groups are confidential - participants can share as much or as little personal information as they wish.
There is no need to register. Participants should feel welcome to drop by and share feelings, difficulties, or successes. Everyone is a valued participant.
For more information, phone the NAMI Helpline at 530-756-8181.